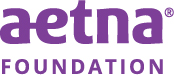 Aetna Foundation
ABOUT THIS REPORT
Aetna, one of the nation's leading diversified health care benefits companies, today released its 2016-2017 Corporate Social Responsibility report. This year's report covers the 2016 and 2017 calendar years and provides an in-depth look into Aetna's commitment to building healthy communities.
Aetna's efforts to strengthen communities go beyond its breadth of work and are ingrained in the company's values - integrity, excellence, inspiration and caring. By combining philanthropy, community engagement and policy leadership, Aetna is able to improve health for both individuals and communities.
In 2017, Aetna announced a new collaboration with U.S. News & World Report to develop the inaugural Healthiest Communities rankings. Research has shown that your zip code has a greater impact on your life expectancy than your genetic code. The ranking assesses which communities offer their citizens the greatest opportunity to live a productive, healthy life and offers insight into the best approaches for improving public health. While no two communities are the same, all communities can learn about best practices in their own backyard and across the country, then apply these lessons to improve the health of their residents.
The Aetna Foundation is also working to address one of the biggest health issues of this generation – the opioid epidemic. The Centers for Disease Control and Prevention (CDC) estimated that, in 2016, 64,000 Americans died of drug overdoses – three times the rate in 1999 and up 21 percent from 2015. To combat this epidemic, the Aetna Foundation created its Opioid Response Initiative, which will provide $6 million in grants to states hardest hit by the crisis, funding state and local projects that can potentially make a real difference in addressing opioid-related challenges.
Additional Aetna CSR achievements include:
Launched the new Student Loan Repayment Program that matches employees' student loan payments up to $2,000 annually with a lifetime maximum of up to $10,000 for qualifying loans.
Earned a score of 100 percent of the 2016 Corporate Equality Index. Aetna is the only company in the health care industry to achieve a perfect score every year since the index was created 14 years ago.
Responded to 2017's unprecedented series of natural disasters with financial donations and employee volunteer efforts.
Awarded $22 million in grants, adding to the nearly $489 million in grants and awards given since 1980.
Hosted initiatives or programs to engage local communities at 100 percent of Aetna offices nationwide.
Media Contact:
Katy Frame
703-739-8358
Aetna Releases 2016-2017 Corporate Social Responsibility Report
Sign up to receive report announcements in your inbox